Callisto Hawkeye
Callisto Hawkeye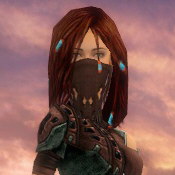 Classification
Description
Callisto Hawkeye is a member of the Defenders of the Blackblade.
Location
Skills Used
n/a
Items Dropped
n/a
Notes
Callisto's pet is named Oink, however it has been suggested that this is not the real Oink as it's ability to tank is underwhelming compared to the Oink found in Kryta.
Callisto can frequently be seen on a B/P run in the ruins of the Tombs of the Primeval Kings.