Motoko Sukauto
Motoko Sukauto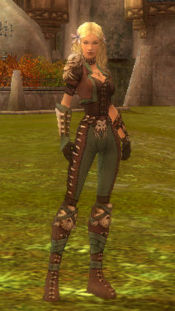 Classification
Description
Motoko Sukauto is a member of the Defenders of the Blackblade guild.
Name
Sukauto means Scout in Japanese.
Location
Items Dropped
Relatives
Assistants
Motokos Pack Mule (PvP Monk)
Motokos Servant (PvP Monk)
Motokos Trashstash (PvP Monk)
Allies
Gondul Queletii (Ranger)
Witch H Robin (Elementalist)
Armor
Pet
Charr Eater (Melandru's Stalker)
Likes
Charr Bags
Dye
Hunting Charr
Ignite Arrows
Melandru
Misc
Motoko Sukauto is Perma-Pre, Most people have a special affection for pre-searing and I am no exception, I am levelling her but not sure I am committed enough to go for the Legendary Defender of Ascalon title.