Sacha Raintree
Sacha Raintree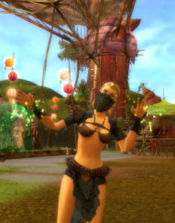 Classification
Description
Sacha Raintree is a member of the Defenders of the Blackblade guild.
Location
Name
Well I was in a hurry lol, I had seen the name Sacha ealier that day and thought Raintree sounded quite Rangery :)
Items Dropped
Relatives
Assistants
Motokos Pack Mule (PvP Monk)
Motokos Servant (PvP Monk)
Motokos Trashstash (PvP Monk)
Allies
Gondul Queletii (Ranger)
Witch H Robin (Elementalist)
Armor
15k Druids dyed Black
Pet
Flea Bag (Level 20 Melandru's Stalker)
Likes
Barrage
Event Stuff
Hunting
Melandru
Mini-pets
Trapping
Treasure
Titles
Brave Lightbringer
Charmed
Hapless
Sunspear Castellan
Tyrian Trailblazer
Misc
I love to play as Sacha, rangers are such a fun character to play! I think I like ranger and ele about evenly, there different styles of play so hard to compare but that simply going by enjoyability.